So this weather really needs to pick a temperature and stay there. Last week it was in the high 40's low 50's and now we're back to the 20's. Like no thank you! It's been really hard to dress lately because I never know if it is going to get warmer in the afternoon or just stay cold. So I literally go to class wearing heavy jacket, scarf, and hat, and by the end of the day I am dying of heat.
As a good transition between winter and fall I thought I would show you guys what my favorite pair of shoes was this winter and what pair I am most looking forward to wearing this spring!
Winter: L.L.Bean Boots
I practically lived in these all winter so they are definitely the best purchase ever and I will definitely get my money out of them for my next four years in this arctic tundra. Good for when it is blizzarding outside, good for playing in the snow with friends, good for when the snow is melting and its super wet and gross everywhere. Literally good for everything in the winter. I don't think there was a day I didn't wear them. If you don't already own a pair I highly recommend getting them now or waiting until like October/November-ish to buy them because they go out of stock SUPER early. Always better to be safe rather than sorry in my opinion.
Spring: Madewell's The Billie Boot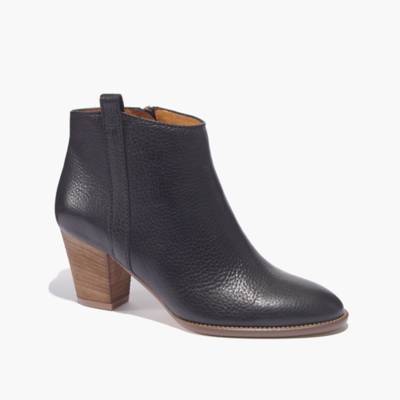 I just got this boot and am so excited for all the outfits I have planned (future post maybe?!) It looks great with jeans rolled up, dresses, and leather leggings. While I would be hesitant to consider this a spring boot, maybe the brown one over the black, I am going to because I think its perfect for spring nights. Am I right or am I right?! haha. I love the big wooden heal even though it makes me even taller than I already am which is like crazy tall (#sorrynotsorry). So I am a little uncomfortable in them but I swear I will get there because I cannot wait to rock these bad boys. I think they will be good for spring, fall, and winter!
What are some of your current shoe faves? Please let me know because I love shoe shopping <3
xoxo