This week was probably the most relaxed week I have had in a very long time. It was great to have a week that wasn't too stressful and I could actually enjoy what was happening around me. Sometimes I feel that I get so caught up in my stressors that I forget to take time to take a step back and enjoy where I am in life. Anyways, I thought I would shared a Spotted this week because I found a few great things while browsing the wonderful interwebs.
One || Carrie Underwood's Something in the Water
Enough said. Like can she get any more perfect? This music video is to die and Travis Wall choreographed it. If you didn't already know about my
Travis Wall obsession you can see here
but this man is a genius. And I honestly cannot believe Carrie is singing this while pregnant... like what?
As a full time college student I often wonder if teachers and professors truly understand what a student goes through. I know that at one point in time they were also students but its easy to forget. This article by The Washington Post is written by a teacher who actually shadowed two students for a day and got a completely new perspective. I think its hard for teachers to realize just how monotonous and tiresome a student's day is. In college, the day goes until midnight. School doesn't end when classes are over but it keeps going. I think this is something that not many professors truly understand.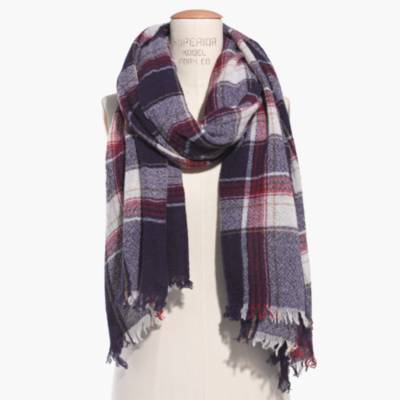 Three || Plaid Scarves
My new found obsession with plaid scarves as hit a new low. I think I have more scarves in my want list than ever before. I just love the idea of a large warm plaid scarf to spice up an outfit. They look perfect with riding boots and puffer vests and I want one in every color scheme imaginable!
This one from Madewell
is definitely at the top of the list.
Four || True Detective Season 2
OMG Taylor Kitsch is back!
I think I screamed when I read this
. I could not be more excited for this new season and am beyond stoked. I absolutely loved the first season of True Detective and if you haven't seen it I highly recommend it. But the fact that Tim Riggins, good old #33, is going to be a main character makes me very. very. happy!
Five || Glennon Doyle Melton
Ted Talks are my newest YouTube addiction and this one really stood out to me. I cried while watching it. This woman has been through hell and back when it comes to mental illness and addiction but her outlook on life is something that I think everyone should know. My favorite line from it is, "It is braver to be Clark Kent than it is to be Superman." She talks about removing the facade of capes and being our true selves.